Another betadvisor tipster the best ranked Junior tipster. Aris Papadopoulos winning over 60% of 198 picks with great Yield of 27.71%. That is one of the highest yields that I have ever tested at betcover. Average odds are @2.12.
Betting strategy by Aris Papadopoulos
I decided to test his picks because I see a similar potential as I saw at Anthony Viduka. Aris start with betting in early 2000s. His main and only betting sport is football. He uses discipline in conjunction with analysis to achieve his aims.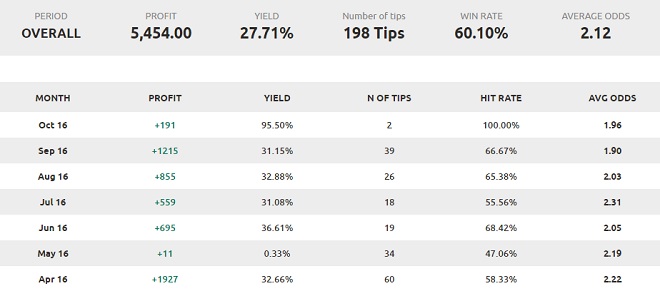 His betting theory is very simple. Aris bet on a few daily games, singles only of course. Always keep an eye on bankroll management. Value is very important before he is placing the picks. Patience is one of the key features of a good tipster, who must look at the long term. In short success demands discipline, persistence, patience, specific goals and certainly a strong stomach.
Often used football leagues are English and Scandinavian leagues. Don't be surprised if you will get pick from Japan or maybe South American league. Mostly used betting types are money lines (match odds), Asian handicap and over/under goals.
Mainly he sends picks in the morning and in a few minutes you will receive all his picks for this day. The current price at betadvisor for one month is only €99 and I believe the price will be higher very soon.
Let's track Aris Papadopoulos, my expectations are high.
01-Oct-16
Hertha Berlin vs Hamburger stake 10 @2.05 +10.50
Plymouth vs Yeovil stake 10 @1.84 +8.40
Bury vs Scunthorpe Over 2.5 stake 10 @2.03 +10.30
02-Oct-16
Fremad Amager vs AB Copenhagen stake 10 @1.90 -10.00
Man Utd (-0.75 HT) vs Stoke stake 10 @2.05 -10.00
04-Oct-16
Dover Athletic (-0.25) vs Sutton United stake 10 @1.89 +8.90
06-Oct-16
Cercle Brugge vs Lierse Over 2.75 stake 10 @1.70 -10.00
08-Oct-16
Chester vs Torquay stake 10 @1.75 +7.50
Scunthorpe vs Northampton Over 2.5 stake 10 @1.87 -10.00
San Martin de Tucuman vs Villa Dalmine (DNB) stake 10 @2.15 +11.50
It's not easy to find the same odds as Aris publish at betadvisor. He crushes the odds in a few seconds.
09-Oct-16
AB Copenhagen vs Hobro Over 2.5 stake 10 @1.91 +9.10
13-Oct-16
ENPPI vs Smouha Over 2.25 stake 10 @1.95 +9.50
14-Oct-16
Toulouse vs AS Monaco Over 2.25 stake 10 @1.90 +9.00
FC Cluj vs CSMS Iasi stake 10 @1.81 +8.06
Bochum vs Sandhausen stake 10 @1.91 -10.00
15-Oct-16
Koln vs Ingolstadt stake 10 @2.00 +10.00
Bristol Rovers vs Gillingham Over 2.5 stake 10 @1.74 +7.35
Northampton vs Millwall Over 2.5 stake 10 @1.95 +9.50
Excellent day. Aris hit 13 of 18 picks. Current stats are +69.61 units while Yield is 38.7%.
16-Oct-16
Fredericia vs Vendsyssel Over 2.5 stake 10 @1.81 -10.00
17-Oct-16
Ilves (DNB) vs HJK Helsinki stake 10 @2.10 -10.00
Eintracht Braunschweig vs Kaiserslautern stake 10 @1.81 +8.10
HIFK Helsinki vs KuPS stake 10 @1.81 -10.00
18-Oct-16
Bury vs AFC Wimbledon Over 2.5 stake 10 @2.07 +10.70
Oldham vs Scunthorpe (-0.25) stake 10 @1.85 -10.00
19-Oct-16
Olhanense vs Aves Over 2.5 stake 10 @2.20 +12.00
21-Oct-16
Wurzburger Kickers vs Karlsruher stake 10 @2.11 -10.00
22-Oct-16
Newport County vs Plymouth Argyle (-0.25) stake 10 @1.86 +8.62
Sandhausen (-0.25) vs St. Pauli stake 10 @1.97 +9.70
Stevenage vs Carlisle United Over 2.5 stake 10 @1.70 +7.00
Portsmouth vs Notts County Over 2.5 stake 10 @1.81 +8.10
23-Oct-16
Villarreal vs Las Palmas Over 2.5 stake 10 @2.02 +10.20
25-Oct-16
Southport vs York Over 2.5 stake 10 @2.00 -10.00
26-Oct-16
Sint-Truidense vs Zulte Waregem Over 2.5 stake 10 @1.89 -10.00
28-Oct-16
Ajaccio (-0.25) vs Laval stake 10 @1.81 -10.00
29-Oct-16
Oxford United vs Millwall Over 2.5 stake 10 @1.85 +8.47
Plymouth Argyle vs Colchester United stake 10 @2.04 +10.40
Juventus vs Napoli Over 2.5 stake 10 @2.12 +11.20
30-Oct-16
Nice (-0.5) vs Nantes stake 10 @1.95 +9.52
Aris Papadopoulos is the first at betcover.com who broke the heavenly 100+ earned units.
Amazing month, stellar tipster. 25 winners of 38 picks with hitrate of 65.8% and with an excellent yield of 27.3%. Believe it or not, this is not his the best record.
Everything looks great with this service, well one thing is not. You have to be fast when he publishes picks because, the odds are falling at blistering speed. Sometimes I was late an hour or two and I've gotten much lower odds.
His profit at betadvisor is +1168 units (100 units per bet), 30.74% yield, while I have +103.62 units (10 units per bet) and yield is 27.3%. So, I lost 13 units because I was late. That is not that bad and I can't be online all the time to catch the published odds.
It's easy to follow his picks and every customer will increase the bankroll and earn considerable amount of money.
Recommended tipster