Senior tipster at betadvisor Anthony Viduka has very good results after all six months. His win rate is over 59% in 303 tips with average odds of @2.07. The yield is also high 22% and Anthony Viduka is ranked at the top as soccer tipster at betadvisor.
Betting strategy by Anthony Viduka
Why I choose another betadvisor tipster is because I see in his tips great potential and value. Anthony Viduka is after several days in my test deserved to be trialed here and I will explain why.
Anthony Viduka is a pro in betting last five years. He is focusing on finding value in matches mostly on the Italian, Australian and International leagues/cups where they are his most successful leagues by a long way.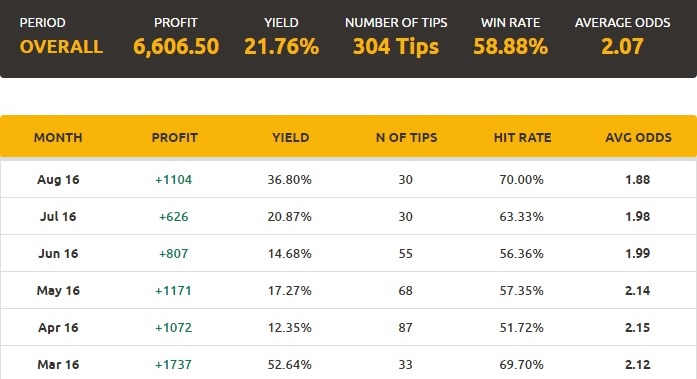 The criteria to find valuable tips are match importance, motivation of players, injuries, time of the year, type of match, league, coach, the location, history and statistical data, referee, special circumstances and the most important – the team's form. Most used bet types are Asian Handicap and Asian Handicap 1st Half, but rarely you will also get Over/Under, Both teams to score, Match odds…
Many tipsters at betadvisor such as Brett Bown or Jeremy Price sends their tips too late and then we have bookies madness, when the odds start falling down as crazy, but Viduka bets on most popular leagues and he usually sends tips in the morning (GMT +0:00).
I love his delivery time that is around 6 hours before the event starts and you will find his tips on most popular and high limit bookmakers. Anthony Viduka will not bombard your email with a lot of maybe will hit tips. You will get only the best, analyzed and valued tips.
The current price at betadvisor for one month is €119.
Let's track Anthony Viduka tips, I hope he will be the best soccer trailed tipster here.
01-Sep-16
Colombia (-0.50 HT) vs Venezuela stake 10 @1.90 +9.00
03-Sep-16
Bolton (-0.5) vs Southend stake 10 @1.75 -10.00
04-Sep-16
Norway vs Germany (-0.50 HT) stake 10 @2.00 +10.00
Carpi (-0.75) vs Benevento stake 10 @1.92 -10.00
05-Sep-16
Albania vs FYR Macedonia stake 10 @1.75 Cancelled
06-Sep-16
Belarus vs France (-1.5) stake 10 @2.00 -10.00
Georgia vs Croatia (-0.5) U-21 stake 10 @1.70 -10.00
09-Sep-16
Schalke 04 vs Bayern Munchen (-1.5) stake 10 @1.90 +9.00
After ten days and only 8 picks we are down for 12 units. We have 3 winners and 4 losers with one refunded bet. Well, the odds are good, I mean almost the same as Viduka post at betadvisor (-111 units with stakes 100).  Delivery time is fine too, all picks coming in the morning at almost the same time.
10-Sep-16
Real Madrid (-1.5 HT) vs Osasuna stake 10 @2.08 +10.80
Celta Vigo vs Atletico Madrid stake 10 @1.78 +7.75
Juventus (-0.5 HT) vs Sassuolo stake 10 @1.87 +8.70
NEC Nijmegen vs PSV Eindhoven (-0.5 HT) stake 10 @1.87 +8.70
What a wonderful day was today. The profit is almost 36 units.
11-Sep-16
Feyenoord (-1) vs ADO Den Haag stake 10 @1.74 +7.40
13-Sep-16
Bayern Munchen (-1.25 HT) vs FC Rostov stake 10 @1.93 +9.26
14-Sep-16
Juventus (-0.5 HT) vs Sevilla stake 10 @2.10 -10.00
15-Sep-16
Konyaspor vs Shakhtar Donetsk stake 10 @1.85 +8.50
17-Sep-16
Leganes vs Barcelona (-0.75 HT) stake 10 @1.80 +8.00
Man City (-0.75 HT) vs Bournemouth stake 10 @1.95 +9.50
Excellent run. In last ten days Viduka won 10 of 11 picks with profit of +77.61 units and Yield in this days is 70.6%. Currently stats of this month are +56.61 units while yield is 31.5%
18-Sep-16
Inverness CT vs Celtic (-0.5 HT) stake 10 @1.83 +8.30
Inter Milan vs Juventus (-0.5) stake 10 @1.90 -10.00
21-Sep-16
Juventus (-0.75 HT) vs Cagliari stake 10 @1.72 +7.20
24-Sep-16
Palermo vs Juventus (-1.5) stake 10 @1.81 -10.00
Sporting Gijon vs Barcelona (-0.75 HT) stake 10 @1.86 +8.55
25-Sep-16
Feyenoord (-0.75 HT) vs Roda stake 10 @1.90 +9.00
Nice winner. Five days to the end of trial and Viduka is 69.66 units of profit. Yield is also high 29.0%.
27-Sep-16
Sporting Lisboa (-0.75 HT) vs Legia Warsaw stake 10 @1.81 +8.13
28-Sep-16
Arsenal (-0.5 HT) vs Basel stake 10 @1.73 +7.30
29-Sep-16
Manchester United (-1 HT) vs Zorya Luhansk stake 10 @1.95 -10.00
Excellent tipster with great overall record. In our trial he won +75.09 units and the yield is 27.8%. Can you believe that is not his best month? At betadvisor Viduka has +795 units with stakes of 100 units per pick. So, with stakes of 10 units we lost only 4 units. Sometimes I found better odds and sometimes I did not. It's my fault because of weaker odds. Sometimes I just missed by a couple of hours, especially with picks sent early in the morning.
From 27 picks he won 18, 8 lost and one pick was refunded what is almost 70% hitrate. There was no half win/lost picks. Average odds were @1.87.
I really like the style of his betting, mostly he bet at most popular leagues. For all picks I found odds at most popular bookies. I use mostly 5Dimes, bet365 and Pinnacle, only once I follow his pick at Will Hill.
Writes a short, but important game previews why follow his pick. Due to the excellent results at betadvisor his monthly price jumped to €149. He deserved it. All in all Viduka is one the best, most profitable tested tipster at betcover.
Recommended tipster